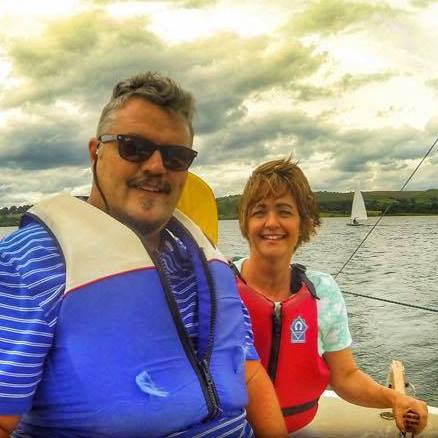 The crew, Carl and Jenny are a married couple who have been fortunate enough to retire at quite an early age.. Their dream for the last 30 years has always been to buy a boat and move aboard with the intention of eventually sailing the world.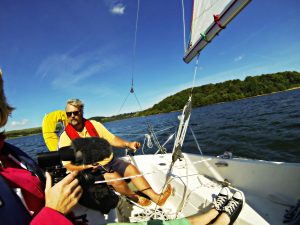 Captain Carlos.
Carl has owned a few boats over the years and has done his Day skipper and Yacht master however it was some time ago so a bit of revision is needed.
Jenny has crewed Carls boats on just a few occasions but loves the idea of sailing around the world.
Having served Queen and Country for 30 years (in March 2017) and also run several of our businesses, Carl has had an interest in the water and boats for as long as he can remember. It all started as a kid with his first inflatable dinghy "Exelsior 11" Many an hour was spent with it blown up in the lounge in front of the TV on a Saturday morning watching Pirate movies, dreaming of the days of getting on the open ocean.
A few years later, Carl was big into windsurfing, until one winter, surfing in a snowstorm, yes thats right, windsurfing in a snowstorm over at Bridlington, he made the decision to sell the boards and start dinghy sailing. Several boats later he bought his first trailer sailer and started his Dayskipper and Yachtmaster training. Marriage and two young children had made their way so a change to motor cruising and canal boats took over, but there was always that desire to set sail towards the open blue! Carl has been back sailing "real" boats now for the past couple of years, but still enjoys the odd week on the canal.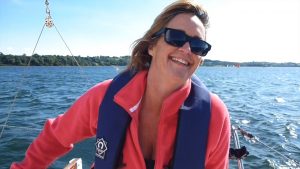 First mate – Jen (Jenny on a Sunday!)
Jen had a career in advertising management, working for several newspaper groups and moving into radio before becoming a main contributor into Carl and Jenny's own businesses and eventually becoming an excellent wedding photographer and film maker running a second very successful wedding photography and film company. Before the kids came along Jen used to accompany Carl on his windsurfing trips all over the UK. Although not into it as much as Carl she did her best, and was quite an accomplished windsurfer sailor in her own right. When the kids came along her time on the water was a lot less although the odd day was spent as crew on the trailer sailer boats on inland waters. As the kids grew, Jen loved spending time unwinding on canal boats. Now the light is at the end of the tunnel, Jen also retired at the same time as Carl. The businesses have been sold with a takeover package which took place at the end of 2017.
Whilst they had discussed for a long time about getting rid of all the things they have acquired over the years, which for Carl was one of the hardest things to do. Cars, motorcycles have gone, "God i'm going to miss my bikes, but I suppose if we get a nice planing tender that will make up for them" is one of the things Carl has been heard to say 🙂
Now after three years into full time liveaboard status they are sailing Dream. The November to April the wintering months are spent in Crete. The rest of the time they are making their way around the Aegean sea.
A little known fact about Carl and Jenny. They are both naturists. They love nothing more than spending time naked whether that's while sailing the boat, being at anchor, swimming or lazing about on a beach. So don't be offended if in their videos you might see a bit more than you expect, although it will probably be pixelated to keep YouTube happy!
Follow their journey as they learn to sail, liveaboard, and deal with the challenges that come up along the way!
They will be documenting the challenges they face over the next few years, from getting trained and qualified (Jenny) and lots of practice and experience out on the water.
Follow them through their decision making process on which boat to buy and many other things on their preparation, and finally on their journeys across and around the oceans.