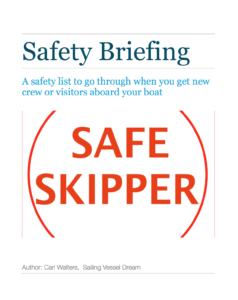 Click HERE to download our FREE "Safe Skipper" Briefing manual.
As the Skipper of a yacht it is your responsibility to ensure that anyone you have on board receives a full safety briefing.
ALL CREW SHOULD BE AWARE OF THE LOCATION OF ALL SAFETY EQUIPMENT ON BOARD AND KNOW HOW AND WHEN TO USE IT.
We have compiled a list below of the things we cover with new crew/guests coming aboard our boat. Whether it's just for a short day sail or longer, bay hopping, coastal passages or longer offshore passages. It's in everyones interest onboard to be confident in the use of any safety equipment that may be required. In emergency situations, time in reacting can be critical. All boats are different and different Skippers keep things in different places. So even if you have experienced sailors aboard, then still cover the basics you have in this guide.
If you have already subscribed to our site then drop us an email and we'll be happy to send you a copy.