50th Birthday update
So following on from the previous post, my Dad was let home from hospital and got back home after a few hours.
Me and Jenny went out for my birthday dinner, we found a restaurant which was offering free meals for whoever's birthday it is so we made the most of it.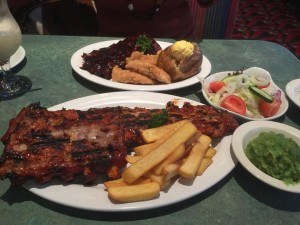 A full rack and half of ribs!! It was beautiful. Jen had the 3/4 rack with chicken fillets. We would definitely recommend this place and will be going again.
After lunch we called in on my 103yr old Grandad who was recovering from a fall just before Christmas where he broke his hip. He has been in a rehabilitation centre for a few weeks and will be going home tomorrow so thats good news.
Afterwards we went to spend a couple of hours with my Mum and Dad, where we shared my birthday cake, and very nice it was too.
It was time to get home as we were having our friends over for a couple of drinks. When I was 40 a good friend of mine who has since been taken from us, bought me a bottle of champagne. I always said I would keep it for a special day. Well today we opened it, raised a glass to Dave and enjoyed the bottle.
So, overall, despite a bit of a dodgy start to the day, I had a great birthday, spending time with friends and family, and thats what it's all about.
Cheers everyone.
Carl & Jenny.