Just back from Gran Canaria getting ready for Slovenia
So our travels continue. We have recently arrived back from Gran Canaria. We bought a timeshare at a beautiful place called Anfi Del Mar around 16-17 yrs ago. Its an abolutely fantastic place but we haven't visited there for a few years due to our extended holiday vacations in America over the past few years. Well we decided to return there a few weeks ago, and my oh my, did we have a great time. We have already planned to go back in May next year.
While we were there we met up with some friends we haven't seen for a few years and it was just like we saw them last week.
Here's a pic of the marina: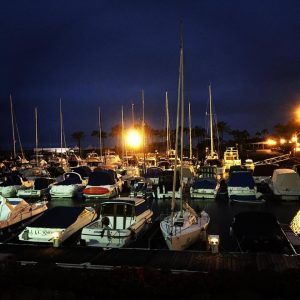 In a couple of weeks we are off again, this time across Belgium, Luxembourg and Germany down to Austria and then on to Slovenia where we will be staying for a few days at Portoroz near the border with Croatia. I'm sure we will be riding down to Croatia to visit some beautiful beaches there. We are riding down on our Harley Davidson motorcycle. The plan was to ride across France but we've had to re-route due to the fuel problems they are having there at the moment. We are really looking forward to the tour.
We'll be sure to post some pics of our trip.
A quick update to our sailing plans. We have a yacht chartered in October from Plymouth for a week which we've already mentioned in a previous post. We are just in the process of booking a couple of weeks in April/May to get Jenny on a Theory and practical day skipper course over in Greece. We will both do the course as it will be a good revision for me and we can both enjoy sitting down over a glass of wine discussing the days training. (before we go back to Gran Canaria). We will spend a week doing the course then charter the boat for the following week. The plan is to then start the selection of our own boat and hopefully be on it by September.
And don't forget, if you would like to help us out on our adventures and get rewards in the meantime, please consider becoming one of our Patreons. Once we are on our boat we will be doing random drawers of our supporting Patreons to come and spend a week with us aboard our boat. Be one of the first.
Carl & Jenny.