Merry Christmas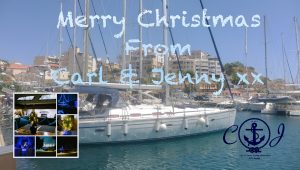 Whats been happening in Ag Nik?
Well Christmas is almost upon us, but here in Crete, it really doesn't feel like Christmas to us and what we have been accustomed to so it will certainly be a bit different this year!
We have put lights on our boat to get with the festive spirit and we picked up an 18 inch high xmas tree along with baubles and trimmed it with some battery lights we brought from home so it looks nice, but it doesn't have the same ambience that you get back home with all the excitement from everyone.
Having said that we went shopping today and got a couple of gifts. The thing is because we've moved onto a boat we got rid of all the stuff we didn't need or use any more so just buying more "stuff" seems pointless. If we don't need it we don't buy it, plus we don't have the same to store it now. So, for Jen, she has wanted to learn how to do calligraphy writing, so I bought her a beautiful calligraphy pen with interchangeable nibs, and of cause some ink. We will be getting a paddle board for her when the weather is right for it.
For me, there is a big live aboard musical interest with a few guitarists and drummers but no keyboard players, so although I have brought one of my guitars my Xmas present is a new keyboard/synthesizer that can be connected to my Mackbook Pro via midi to make some great music (hopefully). I had to leave three keyboards at home because they were too big and heavy to bring on the boat, but this new one is ultra lightweight as it uses the computer for its sounds. Plus side is that I can start to create our own backing music for our videos 🙂 I suppose Jen could use the calligraphy set to write down the music score 😉
It's going to be none stop activities here in the marina over the next few days! Tomorrow we have a party in the clubhouse. Christmas day there are 40 of us going out for a Christmas meal, starting at 1645 and going on until Santa gets stuck up the chimney, Boxing Day there is another get together, then a few days rest.
So let us take this opportunity to wish everyone a very Merry Christmas and a Happy and Healthy New Year.
Season wishes
Carl & Jenny. x.