Not long now…!!! and we meet up with Sailing Kejstral Adventures
Firstly, as the first post of 2017, Happy New Year.
We've been a bit quiet on the blog for the past couple of months as the sailing season had finished and we've had a lot going on with other family stuff. Hopefully now though we will be aiming to put out at least a weekly blog (Mondays) and as the weather gets warmer and we start our trips more regular videos. There are a couple extra videos gone up on our You Tube channel so make sure you check them out.
So, an update on where we are at the moment with our plans to set sail later this year. Well we are slowly weeding out our possessions, we knew this would be the hardest part, still a long way to go though. I (Carl) have 27 working days left till retirement 🙂 at least that will give me a little time to sort out the rest of our possessions. Our son gets the keys  for his own house, so he will be moving out in a couple of weeks and we will be putting our house up for sale within the next couple of months. We have a house sitter coming in soon in the meantime as we have 3 months of travelling prior to buying the boat so they will be keeping an eye on the house and will be able to show prospective buyers around, all though the houses around here generally sell within a couple of weeks of going on the market.
We recently visited the London Boat Show, and treated ourselves again to stay on the London Sunborn Yacht right next to the Excel Arena in Victoria docks. Highly recommended if you are staying in London.
We were a bit disappointed with the show this year, there didn't seem to be many people in attendance, certainly on the two days we were there, so the normal buzz and atmosphere was missing somewhat, so much so that we didn't even bother filming the visit. But on the plus side we got to see a couple of shows we wanted to see, Jen bought me some really useful spanners for the boat and we confirmed that we still wanted to buy the Bavaria 46 yacht. A nice 3 days away all in all.
Yesterday we had visitors around. Kevin & Dee from the You Tube channel Sailing Kejstral Adventures. What a great couple. We had a lovely afternoon/evening with them, and Jen even got to cook a gorgeous Mousakka, served with Greek salad and wine.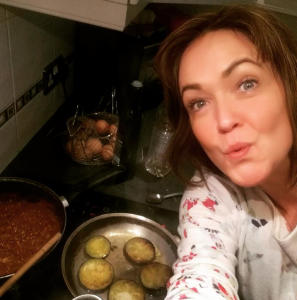 It was great to finally meet Kevin and Dee in person, although for the first ten minutes it was like watching You Tube, listening to them lol. It felt like we had known each other for ages and hope this will be the start of a great friendship.
We could have talked a lot later than we actually did but they had a five hour drive ahead so we had to say our goodbyes. We will hopefully meet up in the Med later in the year.
See you next Monday.
Carl & Jenny x