Repair and Improve Your Boat's Essential Systems
Boatowner's Mechanical and Electrical Manual: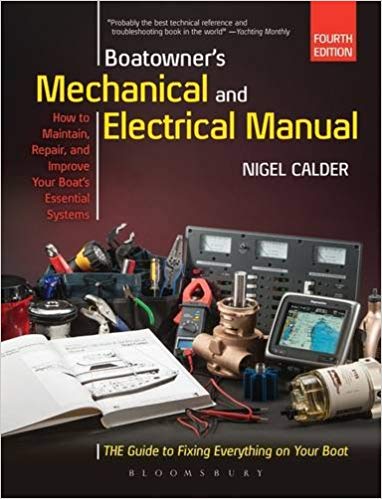 THE guide to fixing everything on your boat!
Well as you know, one of the things with boats is that because they are constantly moving there is always something going wrong, wearing out or just breaking. As a result a quick and good repair/replacement part is required. This is the guide to fixing everything on your boat.
Now when you've been doing it for a long time I suppose it's like anything else, you get to expect and know what's what! That's how we gain experience isn't it?
Well we have a book onboard that takes away most of the mystery, makes it easy to understand and offers advice etc on what and how to do things, explaining it so that even the first timer can understand. Yes, you do need to be a bit practically minded, but, the way it describes things makes it quite easy to understand.
To quote Amazon's review : "This manual takes both novice and experienced boatowner through minor to major repairs of electrical systems, engines, electronics, steering systems, generators, pumps, cookers, spars and rigging.
When it was first published in 1990, the Boatowner's Mechanical & Electrical Manual broke new ground. It was hailed as the first truly DIY manual for boatowners and has sold in its thousands ever since. There have been significant changes in boat systems since then, particularly electrical systems. This fourth edition has been fully updated to reflect these developments and expand its predecessor's worldwide popularity.
'Probably the best technical reference and troubleshooting book in the world' Yachting Monthly
'It deserves to come standard with every boat' Yachting World"
This isn't one of the cheapest books to buy if you are a boat owner, but I think it will be one of the best books you buy. It is available as a hardback or for download to Kindle. In my opinion the hardback book is better as its more practical to use in book format when carrying out repairs, however if you want to read it for reference then the Kindle format would suffice. We have the hardback book.
Should you buy it? Well if you are a boat owner now, or are going to be in the future then YES, without a doubt. You will turn to this book regularly, more than you know.
If you do decide to get a copy, we'd really appreciate it if you could click on the link below, that way we get a small referral commission from Amazon on any sales, which helps to go towards the maintenance of our boat.
Good reading 🙂
Fair winds
Carl & Jenny
If you enjoyed this blog post please check out our Freebies page where you can download other guides.  If you're feeling really good consider having a look at our Support us page.