Well we've had this course booked for some time now and the day came around when it was time to set off on this latest adventure!.
At the time of booking the only airport open in Greece within driving distance was Athens, also the only flight company advertising flights to Athens was British Airways, which meant we had to fly from Heathrow. We decided to travel down the day before the flight and book in at the Raddisson Blu hotel, they allow you to leave the car there in their car park for your trip. It's only a few quid more than their normal room rate so well worth it. We travelled down on Monday afternoon and settled ito the restaurant that evening for one of the best steaks we've ever had.
Next morning we got an Uber cab (first time we've used Uber, using the iPhone app). Really good, and good prices. Our cab arrived and dropped us right outside the departure lounge at terminal 5. As this was going to be our retirement treat holiday (or one of them anyway) we upgraded the flights to premium, so got fast track security, priority boarding and VIP lounge all included. What a difference it makes to a less stressful experience.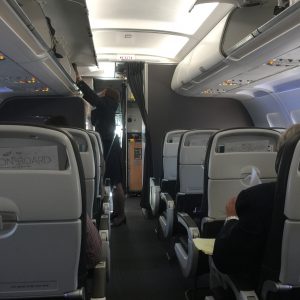 We were soon landing in Athens, only a few months since we were here last, and as we have flown here a few times we are quite at home finding our way around the airport. We collected our bags and headed for the car hire booth. Within half an hour we were on the road. Sat nav set, showing a 5hr drive, eta 2100hrs. En route we called the sailing company to update them on our arrival time. Luckily a new motorway has been built which knocked off just over an hour so Neil & Di, the owners of Sail Ionian actually met us at the office. They very kindly allowed us to stay on the boat the night before our charter started so another thumbs up to their brilliant service. We stepped aboard our home for the next two weeks, a Bavaria 41′ yacht called "Off Piste". Di had prepared a welcome pack for us consisting of loads of fruit, some tinned stuff, bread, oil, vinegar, salt & pepper and other bits and bobs and a very welcome bottle of wine and a few beers.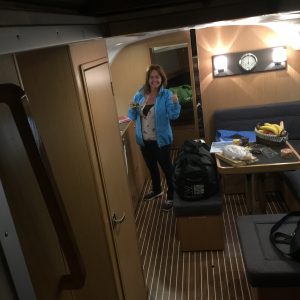 The following morning is what down to business, we were joined by our instructor for the next five days, Steve. It turns out that he used to live just a few miles down the road from us before he moved out to Greece 12 years ago. Small world. We soon became good friends and Steve's calm knowledgable way of teaching was put to good use. By lunchtime of day 2 he told us we would be doing our night sail that evening!! I was nominated as Skipper for the night and so had to plan all the navigation which would take us over 5 hours sailing in the complete darkness with islands all around and the only instruments allowed was obviously the compass, nav tools, plotter and dividers and the trusty pencil. It was all down to preparation and being able to identify lights. Jen took the reponsibility for the pilotage planning once we arrived in the new harbour.
Well we set off, Jen wasn't to happy with us sailing in the dark but I was quite confident in our abilities and my navigation. Along the way the wind picked up to a force 7, great sailing conditions, Steve kept trying to put doubt into my mind about my navigation as a bit of a tester but I stuck to my guns, didn't flap, and it turned out to be spot on. We arrived at our harbour in the early hours, had a celebratory beer and hit the sack!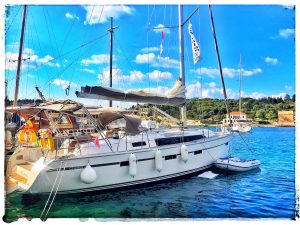 Over the next few days we learnt new skills and tweaked our already learnt ones to a fine tune. We visited some beautiful ports and anchorages and ate loads of chicken souvlaki's, Greek salads and drank a few beers as well.
We got back to base on Sunday evening and was awarded our dayskipper practical certificates..a successful week and two very happy sailors/Captains!!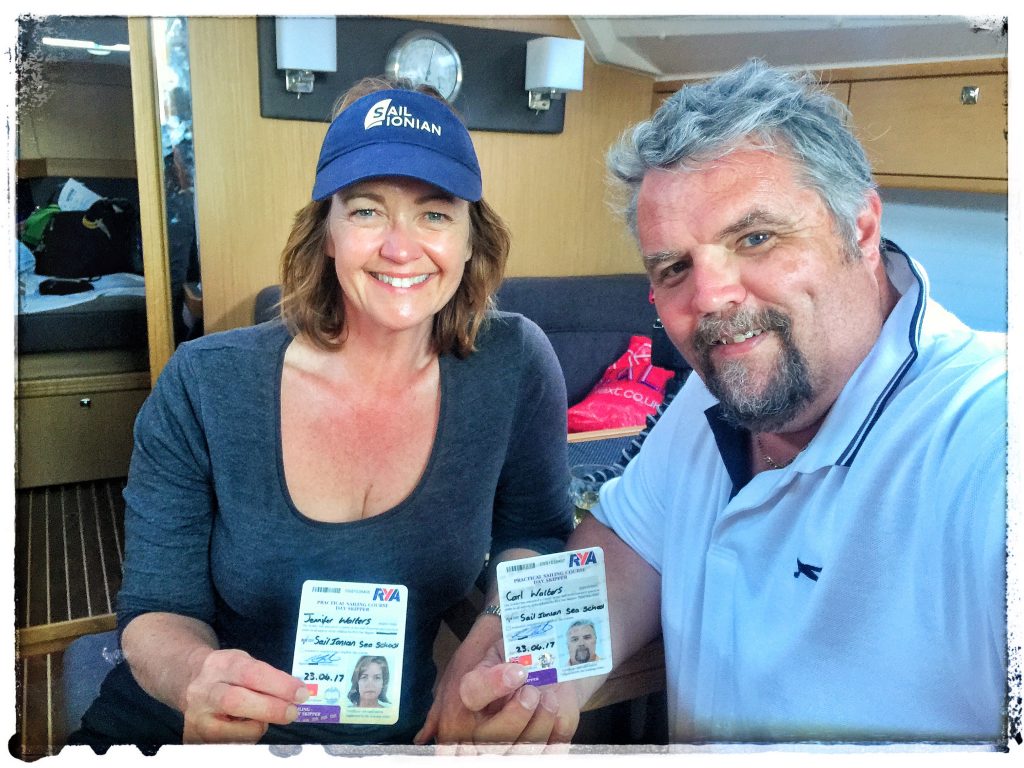 The following morning we set off out on our own……!!
Watch out for the next blog post about the next 9 days on our own.
Carl & Jenny x