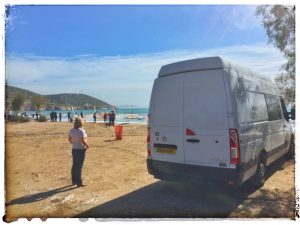 It's roadtrip time!
As many people know who visit our various social media pages we now live aboard our yacht which is currently moored in Crete. In addition, we also have our camper van that we converted just before leaving for Crete.
Over the last few weeks, we have been getting quite a few messages asking when we will be sailing, so we thought we'd take a few minutes to talk about it.
We moved down to Crete at the end of November, arriving there on the 1st December by driving down with all of our possessions after selling up in England. We had bought the van and spent just over two weeks converting it to a camper van, the idea behind that is that we had somewhere to stay/sleep on our way to Crete without having the costs of hotels, and also the other thought was that once we had it back in the UK, we would have somewhere to stay and transport when we returned back without having to impose on other people.  The fact that out of sailing season we can roadtrip around Europe was also something that made up our minds on buying the van.
So, at the beginning of December, after a week long roadtrip, we arrived in Crete. When we arrived 'Dream" was on the hard standing as we had her taken out of the water for the survey. It was agreed with the seller that it would be better leaving her out of the water until we returned upon completion of the sale.
On our arrival we were told by the marina that we would have to wait a couple of weeks before our berth would be ready on the pontoon, so this gave us time to antifoam the hull as well as doing a few other jobs such as changing the seacocks and thru deck fittings.
Our boat, DREAM, was launched in the middle of December. Because she has been used over the last few seasons as a holiday home, and not done much, if any, sailing we had a few things to do to get her back to daily sailing status. We have had to renew all of the safety equipment as it was all out of date and to legally sail in Greek waters these had to be done. So we have been waiting for some of the replacement safety gear to be delivered. A few more jobs left, one of which, we still have the flares to replace which will be done on our return. Almost everything else is ready. Our plan is further down the page!
With regards to our van, we wanted to take it back to the UK at the beginning of March. Once it has been in Greece for 6 months then we would have to register it there which can be a minefield and an added expense. We also didn't want it sitting on the marina car park while we were off sailing for the summer. So, we decided on March to take it back. A few reasons; It was both of our Mum's birthdays in March, Mothers day, and wedding anniversaries. It's also Carl's grandads 106th birthday and we wanted to be back for the celebrations of that.
You can watch our live updates of our roadtrip to Crete here.
Time for another roadtrip.
The roadtrip begins! We set off and got the ferry from Heraklion to Athens. We then spent a couple of days parked up on a sandy beach, just a few metres from the waters edge. It was great. A nice beach front bar a minutes walk away serving beautiful food and drinks, free use of their facilities whilst we were camped even during the night. We then had to head up to Patras to get the next ferry which would take us all the way to Venice.
The next couple of days were spent  in Venice and then decided, as it was still snowing in the UK, to drive down to Monte Carlo, Monaco and Nice. We saw some of the sites and camped out right next to the waters edge again. Great scenery and good weather.
In a couple of days it would be Mothers day. We had planned to be back at the end of that coming week so that is when everyone was expecting us. We looked at the map and worked out that if we set off that afternoon, drove for a few hours we could get up to Calais by Sunday morning and get on the Eurotunnel. If we didn't hang about we could be back in our home town by Sunday afternoon! What a surprise for our Mothers' day! We got rolling.
The crossing went without problems and after a short stop near the Dartford crossing to drop off a pedal cycle we were bringing back for a friend we were soon on the M1 motorway heading North. Luckily all the snow that had plagued the UK for the last week had gone and it was clear bright weather all the way.
We arrived at Carl's Mum and Dads just after 4pm. A big surprise, and worth making the trip for. A couple of hours later the same experience at Jen's parents.
We are now parked up at our son's on his drive, camping still in the van. The trip was made all the the better when on Wednesday he passed his driving test. He has suffered from epilepsy since birth and didn't think that he would ever be able to drive. Two years ago we went through a massive stress flu situation where he had to have part of his brain removed to stop his seizures. The operation is only carried out a couple of times a year as the risk is so high, and is only done if the life change improvement outweigh the risks. His operation was a complete success and now he has been fit free for over 18 months which meant he could have a driving licence and learn to drive. The world is now his oyster 🙂
So onto the plan for the summer;
We will be setting off at the beginning of May and heading to Rhodes. Mid May we will be picking our daughter and partner up who will spend the next week with us exploring a few of the local islands there. We will be dropping them off in Kos. The plan is to then continue up the Eastern side and getting as far North as we can before the Meltemi wind starts. We will then cross to the western side and then go with the wind back south exploring islands as we go. The plan is to get back to Crete mid September/October.
We will continue to update our YouTube channel with our adventures, as well as our blog, Facebook, Instagram and Twitter pages so please continue to follow.
We are looking forward to the summer and meeting lots of people on our travels.
You can see our latest video here
Love and Peace,
Carl & Jenny